President's Profile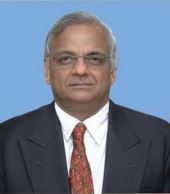 N Kumar, Vice Chairman, Sanmar Group is an Electronics Engineering Graduate from Anna University, Chennai.
The Sanmar Group with its corporate headquarters in Chennai has set benchmarks of global partnerships – in Chemicals, Engineering (Products and Steel Castings) and Shipping. It has a turnover of over US $ 1 billion and a presence in multiple businesses, with manufacturing units spread over numerous locations in India, USA and Egypt.
Kumar is on the Board of various public companies and carries with him vast experience in the sphere of Technology, Management and Finance.
As a spokesman of Industry and Trade, N Kumar has been a President of CII and participated in other apex bodies. He presently chairs the CII Institute of Quality, Bangalore. N Kumar is the Honorary Consul General of Greece in Chennai.
N Kumar has a wide range of public interests going beyond the confines of corporate management, in areas of health, social welfare, education and sports. One special area where he is involved is the Madhuram Narayanan Centre for Exceptional Children. He has extensively travelled across the globe. He is an avid golfer and a patron of cricket and tennis.